Career Connect Website is now aLIVE!
We are very excited to inform all of you that finally Career Connect Website is now aaa….LIVE and running. We would like to extend the invitations to all employers, MMU graduates and even MMU Final Year students. Let's get on board to our Career Connect Website!
Here are some exciting features we have included for the employers.
Looking for potential talents (Candidate Listing)
Post job vacancy (Post New Job)
Shortlist candidates (Dashboard)
As for our MMU Final Year Students and Permata Dunia (Graduates)
Looking for your future employers and jobs (Employer Listing & Job)
Creating your own resume / CV (User Dashboard)
Send your resume to employers (User Dashboard)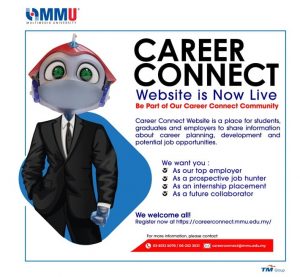 We hope you are equally thrill with our Career Connect initiative.
If you have any other enquires related to careers and recruitments do email us as careerconnect@mmu.edu.my
Yours faithfully,
Career Connect Team