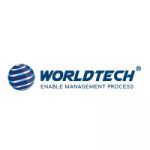 Overview
Sectors Software / Information System

Posted Jobs 0

SSM Registration No. 689644-U
Company Description
From our humble beginning in year 2005, Worldtech Solutions Sdn. Bhd. has come a long way to become one of the leading endpoints solution provider in Malaysia. After 14 years in the industry, we provide services to more than 150 customers with 200,000 managed endpoints. We are poised to become a leader in Endpoint Big Data Platform provider and pioneer to explore the new paradigm – Artilficial Intelligence Service Management (AISM).
Our company embraces values that keep us thrive and adopt a never-say-die attitude:
1. Integrity,
2. Team work,
3. Equal opportunity,
4. No office politic,
5. Quality, and
6. Customer satisfaction.
Our team is dynamic, ambitious and passionate in forging forward to build the biggest endpoints bigdata platform in ASIA. In line with our business growth, we welcome talented, experienced and qualified candidates to join us to contribute Malaysia towards IR 4.0.