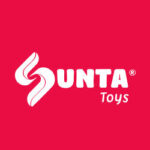 Overview
Sectors Manufacturing

Posted Jobs 2

SSM Registration No. 156646V
Company Description
Established in 1986, Sunta is an international manufacturer and exporter of children's toys based in Melaka, Malaysia. With over 30 years' experience, Sunta specialises in Original Equipment Manufacturing (OEM) and Original Design Manufacturing (ODM) for global markets including Europe, North, Central and South America, North Africa, Australia, Middle East, as well as for fellow Asian countries. Our roster of products range from classic puzzle mats to giant board games. Fully equipped with the latest technology meeting ISO and ICTI standards housed in an 8-acre factory with a dedicated and creative workforce, Sunta is committed to delierving its wide range of safe yet fun and educational products to children all over the world.
The Sunta company's "Hands" logo draws inspiration from our commitment to raising the bar of creating safe and fun toys for, and with, children everywhere, hand-in-hand. At Sunta, we too are parents. And when it comes to caring and putting your children's interests at heart, we want the best (and safest) toys for them as much as you do.
A fresh new take on our original "Hands" logo, the company's trademark represents our love in collaborating with children to seek inspiration from their amazing world of imagination — joining hands to rediscover the wonders of our childhood playtimes, and building exciting new worlds for them to explore.
Working together hand-in-hand, we create the perfect balance of:
PROFESSIONALISM + PLAY
EXPERTISE + IMAGINATION
EXPERIENCE + EXPLORATION
TRUST + FREEDOM
CARE + FUN
…to create the perfect toy.
Active Jobs From SUNTA MANUFACTURING SDN BHD