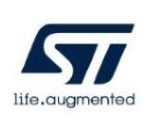 Overview
Sectors Engineering / Robotics / Automation

Posted Jobs 0

SSM Registration No. 17326-V
Company Description
Everywhere microelectronics make a positive contribution to people's live, ST is there. Every day, millions of people around the world benefit from ST's products and technologies but few are aware of this because all of ST's technology operates behind the scenes. We are a leading semiconductor company, one of the most important and influential semiconductor players in the world and the largest European semiconductor company.
People are the foundation of ST and they drive our success. We believe there is a strong correlation, between employee's commitment and business results. Our engaged employees will make ST even more successful. For this reason, ST has a solid infrastructure to manage the core processes related to people and, one of our first corporate priorities is "People". This corporate priority focuses on employee engagement and recognition, talent management, leadership development.
We are looking for talented and energetic individuals who seek to develop their skills and knowledge and eventually creating opportunities for career growth in this industry. Come, join us and together we experience this exciting journey.