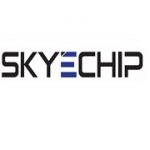 Overview
Sectors Research & Development

Posted Jobs 0

SSM Registration No. 1323812-D
Company Description
SkyeChip is a Malaysia based design company dedicated to deliver cutting edge IP & IC solutions for artificial intelligence and high-performance computing.  The company is founded in 2019 by a group of world class IC designers with average experience of more than 15 years in MNCs including Intel, Altera, Broadcom, Spansion, Motorola, etc.
SkyeChip has in-depth and complete technical expertise to develop advanced IP and ASIC products, including architecture, micro-architecture, logic design, circuit design, DFT, physical design, layout design, software, test and package product engineering.
SkyeChip core team consists of recognized experts in their respective fields and collectively holds over 80 US patents. Our unique advantage is a team who work together seamlessly, right from the beginning, to deliver IPs and ASIC products in a high quality and timely manner on multiple projects over an extensive period of time.
In addition, we also have extensive experience in project management, new product introduction, and management of global supply chain for volume production.
Come and join us if you wish to learn more about what we do.