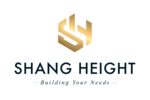 Overview
Sectors Others

Posted Jobs 0

SSM Registration No. 1040528 - X
Company Description
Incorporated in 2015, Shang Height Group is established
with the sole purpose of delivering dream homes of both
quality and practicality. Our main focus as a developer
to redefine livability and sustainability is underlined by our
commitment to fulfill needs and to uphold our core-belief
that everyone deserves a place to call their own.
Our success stems from the expertise of our founders,
Mr. Tee Kai Loon, Mr. Tee Kok Siong and Mr Yeow Chee Keong
who consolidated their years of experience in property
development, constructions and finance, and grew the company
from its humble beginning with a capital of RMlmil.
Today, Shang Height Group is also working hand-in-hand with
the local government to deliver key projects in Melaka.
Through our unyielding devotion in providing for the community,
we are inspired to realize the dreams of many by creating
aspirational spaces for greater life.