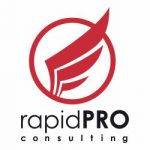 Overview
Sectors Education / Training

Posted Jobs 0

SSM Registration No. (201301006935 (1036775-V))
Company Description
Why Choose Rapidpro:
Track record of achieving measurable performance change
Example: Allianz (our client) has increased turnover from RM 700m to RM 2.2b during the 8 years we have been implementing sales (and service) certification programmes.
Provides value-added services
We have built customised extensive change programmes for a number of our clients, mostly in sales, service, and leadership
Builds careers to enable realisation of potential
We have numerous examples of staff who have made dramatic progress in their life both at work and home, as a result of attending our workshops.
Fun experience for participants
Our brand is "Serious Fun" and we work tirelessly to try and 'live' the brand every day.
Proven experience of developing professionals throughout Asia across a broad range of industries
Our range of services to our clients has enabled us to become experts at delivering training solutions.
We are capable of localising international content as well as delivering our very own state of the art programmes.
Reputable brand in the market
Over the last 15 years, we have provided our services to over 100 major organisations.
We are certification specialists
Numerous clients have engaged us to certify their workforce to raise the performance bar in the company.