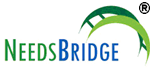 Overview
Sectors Accounting / Finance

Posted Jobs 0

SSM Registration No. 795175A
Company Description
At NeedsBridge, we strongly believe in our motto "Bridging needs through our value and passion". As we believe that there are people out there to place profit above all, we recognise the fact that the profit is not an end by itself but the result of our dedication and effort being put to ensure total clients satisfaction, which we think are utmost important. We believe walk the extra miles than talk the extra miles.
As such, our team members play the most important role in NeedsBridge's quest to achieve its Mission and we understand the critical to maintain effective and efficient team that is knowledgeable, with best skills in the industry and wide exposure vertically and horizontally. As such, human resource development and talent management play a central role in our team and we believe only organisation with such mentality will be able to thrive overtime.
The industries we are acting as outsourced internal audit function include fast moving consumer goods, publishing, packaging, steel processing, ingredient processing, property development, construction, semiconductor, trading, electronic manufacturing services, mechanical and engineering, transportation, fashion, and poultry industry.