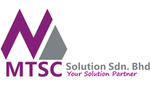 Overview
Sectors Engineering / Robotics / Automation

Posted Jobs 0

SSM Registration No. 796938D
Company Description
MTSC Solution Sdn. Bhd. is a trading and consultation firm in-  corporate in Penang, Malaysia. We trade new & used equipment,  provide turnkey solutions and services to our value customers in  the area of test, process and laboratory under electronics  manufacturing environment around South Asia Pacific (SAP).
We serve CEM/EMS, ODM & OEM.
Our technical consultants have helped our valued customer to  optimize their manufacturing test solutions to ensure ROI in their  capital equipment purchases, as well as liquidating unused  excess throughout the years.