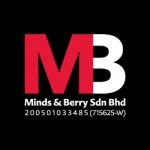 Overview
Sectors Others

Posted Jobs 0

SSM Registration No. 200501033485
Company Description
Minds & Berry Sdn Bhd is a designated one stop Advertising and Digitalising agency with a firm aim to deliver and produce an enriched value in strategic and innovative communications and marketing solutions.
Our ability and strengths are lay in providing top notch communication and production work that caters to a broad range of clients within various sectors of the industries.
Today, Minds & Berry Sdn Bhd has navigated through many scenarios that have required us to dig deep into our professionalism and ability to produce great work consistently and with ensured quality. This is in line with our vision and mission to add more value to our clients' overall communications and marketing strategy.