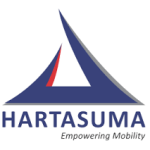 Overview
Sectors Manufacturing

Posted Jobs 0

SSM Registration No. 199401017256
Company Description
HARTASUMA SDN. BHD., a pioneer in the local rail industry, supplied the first locally assembled passenger coaches and LRTs in Malaysia to Prasarana Malaysia Berhad (PRASARANA) and Keretapi Tanah Melayu Berhad (KTMB).
Since our inception over 2 decades ago, we have delivered more than 400 rail cars to cater to the nation's public transportation needs; and are currently supplying 27 new LRT trains to PRASARANA for Kuala Lumpur's Kelana Jaya line on one of Malaysia's largest rolling stock contracts.
HARTASUMA draws on its technological expertise and innovative capabilities to meet the current and future needs of operators and passengers. Our solutions cover a whole range of services, including urban transit, mainline travel, regional transport including cable systems. HARTASUMA's core competencies lie in the areas of innovative engineering, refurbishment, overhaul, operations and maintenance, assembly and supply of rail cars/coaches.
HARTASUMA continues to forge ahead with its commitment to provide our clients the best sustainable transportation solutions, living up to its motto 'EMPOWERING MOBILITY'.