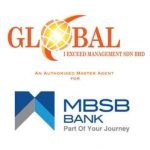 Overview
Sectors Sales / Marketing

Posted Jobs 0

SSM Registration No. 974669-A
Company Description
Global I Exceed Management Sdn Bhd (974669-A) is an authorised master agent for MBSB Bank Berhad.
Mainly marketing Personal Financing-i specializing in financial consultancy.
We have several offices (locations) across the nation:
– KL (Ecosky)
– KL ( Taman Mastiara)
– Johor (Johor Bahru)
– Penang
– Pahang (Kuantan)
– Sarawak (Kuching)
We are currently looking for Internship trainees to be located at our Head Office in Kuala Lumpur and wishing to give job opportunities across the nation too.
There are 4 teams and multiple positions as per below;
1) Sales Team (All locations)
2) Digital Marketing Team ( KL)
3) Finance Team (KL)
4) Operation Team (KL)
5) Training and Development (KL)
Jobs are OPEN TO MALAYSIANS ONLY!
Working days : Monday – Friday
Working hours:
Ramadhan : 8am – 4.30pm
Normal : 9am – 6pm