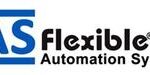 Overview
Sectors Engineering / Robotics / Automation

Posted Jobs 0
Company Description
Flexible Automation System Sdn Bhd is an integration partner that is specialized in industrial automation solutions and products for the industrial end-users and original equipment manufacturers (OEM). We operate in the Asia-Pacific region: South East Asia (SEA), China, India and Australia with more than 35 offices and 250+ employees.
Flexible Automation System Sdn Bhd is a member of the CEH Group, an international operating company with 550 employees divided in three divisions: Polymers Technology, Industrial Automation and Manufacturing & Industrial Development.
Flexible Automation System Sdn Bhd is rapidly developing the Industrial Automation Solution in South East Asia region to help our customers achieve their goals. We offer solutions on equipment level like control, motion & drives, robotics, machine vision. For the process / management level we deliver solutions like monitoring of energy, productivity, traceability and factory monitoring & control (SCADA).