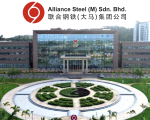 Overview
Sectors Manufacturing

Posted Jobs 0

SSM Registration No. 1088350-M
Company Description
Alliance Steel (M) Sdn. Bhd. was founded in April 2014. It is located in the Capital of Pahang State and the biggest city of East Coast Economic Region – Kuantan, near to the port of Kuantan, facing the South China Sea.
Alliance Steel is a state-owned-joint-stock foreign investment enterprise jointly invested by Guangxi Beibu Gulf Port International Group Co., Ltd. and Guangxi Shenglong Metallugical Co., Ltd., driven by head of state of the two countries, China and Malaysia. Both governments work together to build the first and also key project in Malaysia-China Kuantan Industrial Park (MCKIP). Total investment of this project is about 1.4 billion USD, covering 710 acres of land, specialized in producing high-speed wire rod, bar rod and H-beam steel with an annual production of 3.5 million tons.
Alliance Steel (M) Sdn. Bhd. is a transnational metallurgical enterprise integrating production, processing, distribution and trade with most advanced technology and equipment, and most complete steel varieties and specifications in the steel industry in Malaysia. It is also one of the most competitive steel plants in Southeast Asia region which generates about ten thousands of job opportunities. In addition, Alliance Steel is the first steel company in ASEAN region that adopt complete flow and process technology in producing H-beam steels.