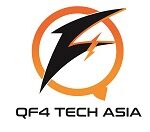 Overview
Sectors Education / Training

Posted Jobs 0

SSM Registration No. 201801013956(1275972-D)
Company Description
QF4 Academy Asia is formed and managed by QF4 Tech Asia Sdn. Bhd. to bring fresh & innovative approaches on teaching the disruptive technologies across Asia.
We focus on delivering on-demand courses in comfortable venues at competitive prices along with advancing our trainer's skills and giving you greater a learning experience. In collaboration with industries, our International accreditations provide the path for the students and professionals towards promising career.
Apart from training courses, we care to build the community. We welcome experts, practitioner from the industries to join hand with us in the journey of improving better nation.