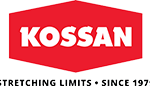 Overview
Sectors Manufacturing

Posted Jobs 0

SSM Registration No. 48166-W
Company Description
KOSSAN is one of the largest manufacturers of disposable gloves in the world and one of the largest technical rubber products manufacturers in Malaysia with a broad-based market reach globally. It offers a wide range of products equipped with solid manufacturing capabilities with automation potentials.
Established in 1979, KOSSAN has to-date an annual gloves production capacity of 32 billion pieces and a compounding capacity of technical rubber products exceeding 10,000 metric tonne per annum.
A preferred Original Equipment Manufacturer (OEM) and business partner, KOSSAN is recognised for its capabilities in bringing forth innovative products with consistency in quality, backed by professional business ethics and robust financial track record.
With its long-term sustainable growth model, KOSSAN continues to forge solid partnerships and strategic client relations and remains committed in serving the needs particularly of the healthcare, cleanroom and safety sectors for the Gloves division, and in industries such as automotive, infrastructure, marine, aviation, rail and mining for the Technical Rubber Products division.
KOSSAN's journey continues with future-proofing initiatives whilst adapting to the ever-changing landscapes of the industry and marketplace.