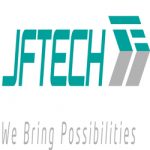 Overview
Sectors Manufacturing

Posted Jobs 0

SSM Registration No. 718186-U
Company Description
JF Technology Bhd (JF) is a local public listed company located in Kota Damansara, Petaling Jaya, Malaysia. It has three subsidiaries; JF Microtechnology Sdn Bhd (JFM), J Foong Technologies Sdn Bhd, and JF TestSense Sdn Bhd.
We deliver High-Performance Test Contacting Solutions to the semiconductor industry to validate IC devices that go into handphones, wearable electronics, automotive, solid-state storage military, the internet of things, medical and electronic appliances.
JF's vision is to be the World's No. 1 provider of high performance in Test Contacting Solutions for the semi-conductor industry by maximizing values for our customers, employees, and shareholders.
In JF manufacturing operation, we machine precision micro components for test sockets with CNC, EDM, and laser machines.
We are committed to manufacturing excellent quality products within the lead time and we strive to continuously improve our operation in terms of quality, cost, and delivery.