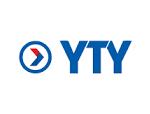 Overview
Sectors Manufacturing

Posted Jobs 0

SSM Registration No. 176157-M
Company Description
YTY Group is one of the largest manufacturing companies of Nitrile Examination Gloves. Since its establishment in 1988, YTY Group – consisting of YTY Industry, Green Prospect, Green Prospect (Lumut) and Medisafe Technologies' mission have been to keep frontline employees safe through the manufacture of high-quality, single-use Examination gloves.
Today, YTY is one of the largest manufacturers of Nitrile Examination gloves, but also a leading supplier of Polychloroprene Examination gloves, which offer unique advantages relative to Nitrile gloves. YTY is also renowned within the industry for our technology, our quality, our innovation and our exemplary customer service
Apart from that, YTY sees corporate social responsibility as an avenue to drive positive change with respect to the welfare of the environment, its people, and the communities we exist in.  Our employees are at the crux of our success, and YTY invests in its team, providing ample opportunity for continued competency upgrading.  We also encourage our team to contribute to our efforts in giving back to the community via programs to benefit children, the elderly, and families in general.  Through our efforts, we commit ourselves to being great corporate citizens, contributing positively to community development.