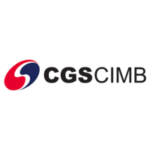 Overview
Sectors Accounting / Finance

Posted Jobs 0

SSM Registration No. 48703W
Company Description
CGS-CIMB Securities International Pte. Ltd. ("CGS-CIMB") is one of the leading integrated financial service providers in Asia.
It is a 75-25 joint venture between China Galaxy International Financial Holdings Limited, a wholly-owned subsidiary of China Galaxy Securities Co. Ltd., and CIMB Group Sdn Bhd.
Through a network of local offices, branches and strategic partners, we have a global presence in over 20 countries, providing a truly Asian perspective. We are well-positioned as Asia's leading financial gateway with a core focus on well researched and in-depth analysis on financial products.
We are a customer-centric firm and focus on value creation for clients, offering a suite of investment and financial solutions for retail and institutional clients. Our businesses include retail broking, institutional equities, derivatives, prime services, equities research, wealth management and online broking.
Backed by an award-winning research team, we have one of the most comprehensive research coverage of over 800 stocks in the region. Our strong research capabilities form the backbone of our product and service offerings, connecting clients to opportunities.