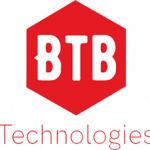 Overview
Sectors Software / Information System

Posted Jobs 0

SSM Registration No. 003283796-D
Company Description
We are a new young software agency company and now ready to expand. BTB provide fully customised / Made solutions to fits our client's needs.
We put a strong focus on the needs of our client's business to figure out solutions that best fits their demand and nail it.
B
uild
T
he
B
est solution is always the priority from us to our client.
Our Mission
Always provide &
Build The Best
solution for our customer that fits their business.
Our Vision
No more
IMPOSSIBLE
on your business tech idea, only
I'M POSSIBLE
.

Company Culture
A place that we learn, we build, we fight, we support and we succeeded together.
We Believe C.R.A.Y.O.N
Creativity
You have idea? Just speak it out and we make it real. We appreciate people who dare to share and discuss their idea to make the community better.
Respect
We respect everyone in our company like how we respect our family.
Attitude
Always stay professional on our work in order to Build The Best for our team, company & client.
Young
No matter how old you are, mind & heart being young is what we are looking for.
Open-minded & hearted
Also open you your heart & your mind to accept anyone or anything happen from our team member, listen and do the right action is what we need as a team.
Naughty
Is ok to break the rules and trying something new , but make sure what you did is not hurting anyone and you believe it bring good result.