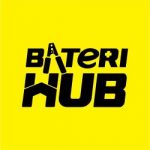 Overview
Sectors Engineering / Robotics / Automation

Posted Jobs 0

SSM Registration No. 1307864-K
Company Description
BateriHub is Malaysia's No. 1 automotive battery retailer,
providing exceptional battery products and assistance for your
vehicle across Klang Valley, Negeri Sembilan, Melaka, Johor,
Perak and Penang.
In BateriHub, we continuously improve our services to meet the
rapidly changing market needs in the automotive industry with
our wide range of well-recognized and high-quality products
which fit in a diverse range of automotive applications.